Carysil launches One-Of-A-Kind 'Built-In' Coffee Maker in association with Vaani Kapoor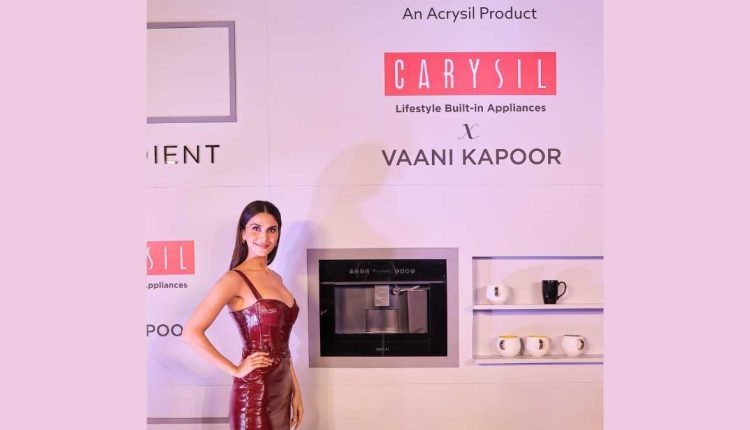 Carysil, in collaboration with Vaani Kapoor, announced the launch of its one-of-a-kind coffee maker with the new built-in innovative features to offer an indulging coffee experience for coffee lovers who make their own brew. The state of the art coffee maker comes with an intelligent pre aroma system that allows maximum aroma to develop from coffee of any blend or roast for a highly enriching brew. Additionally, it presents the customers with the freedom to choose from multiple coffee functions across regular coffee, double coffee, additional pre-ground coffee powder, steam function for cappuccino or hot water and rinsing function.
"Over a period of time, and with this new shift of hybrid work culture, we've observed people invest in good coffee machines. Consumers' lifestyles are changing across the country, and we are understanding what appeals to the younger generation. With the rapid growth of coffee culture in urban India, we grabbed this opportunity to provide consumers with the ultimate brewing experience. Carysil, where technology and art meet, is an innovation hub for premium products of this kind. We are certain that our new fully automatic, espresso, and pour over coffee machine will delight fanatics who appreciate fine coffee", said, Chirag Parekh, CMD, Carysil.
The high-tech coffee machine comes with automatic control systems that provide convenient methods of using the maker while maintaining top-notch product quality. Apart from a Multilanguage LCD and full touch control enabling a perfect blend from bean to cup, the coffee maker also possesses a smart automatic self-maintenance system with in-built cleaning and descaling indicator.
At the launch, Vaani Kapoor, said, "A perfect cup of coffee is bliss and settling for less than a perfect cup of coffee does not do justice to this blend of aromatic ecstasy. With this new range of Carysil coffee makers, we are trying to bridge that gap between a good and a fine cup of beverage. The highly automatic and smart tech that powers the machine is elegantly designed and professionally inspired to ensure an immersive coffee experience for all coffee lovers. The uniquely innovative espresso machine allows customers to easily and perfectly make the ideal espresso and enjoy a more refined cup of coffee at the comfort of their home."
While the maker delivers espresso shots, it also has a frothing nozzle for the cappuccino spoon to give the users an all-around taste of having different textures through the coffee and supply a frothy milk topping. The Carysil Coffee Maker holds a removable water tank of 1.8L capacity with adjustable coffee strength, 19Bar Pump Pressure and 73-88 Degree Celsius Coffee temperature. The machine will be available in black model, priced at INR 1,39,990.