First Padma Vibhushan Ustad Ghulam Mustafa Khan Award to be Conferred on Padma Vibhushan Pt. Hariprasad Chaurasia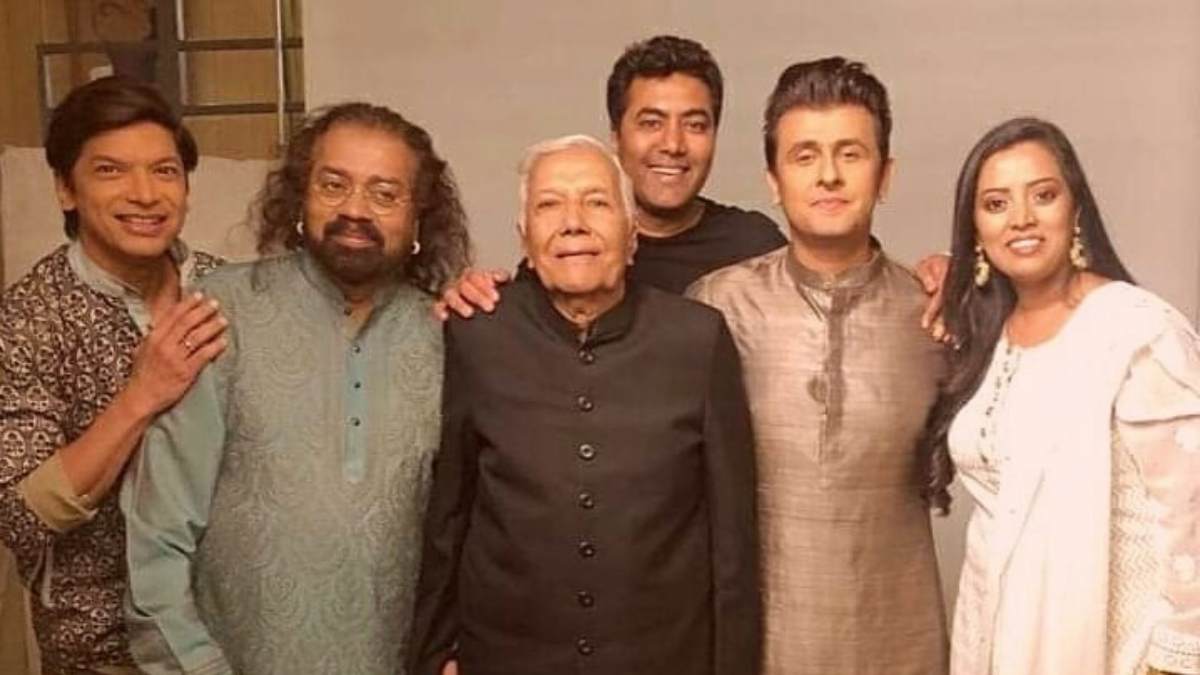 On the occasion of his second death anniversary, unmatched doyen of Hindustani Classical Music, Padma Vibhushan Ustad Ghulam Mustafa Khan will have an annual award instituted in his name by his family and students, and a concert that pays tribute to the late legend. Titled 'Haazri', the concert will be held on 17 January, 2023 at the landmark Shanmukhananda Hall, Sion. Living legends Padma Bhushan Ustad Zakir Hussain and Padma Shri Hariharan will be performing with Ustadji's grandson Faiz Mustafa Khan (22 years), paying tribute by featuring as the opening act of the evening. On the occasion, the first Padma Vibhushan Ustad Ghulam Mustafa Khan Award will be conferred upon maestro Padma Vibhushan Pandit Hariprasad Chaurasia. Countless veterans and singers from the music and film fraternity are expected to be in attendance.
Padma Vibhushan Ustad Ghulam Mustafa Khan was a torchbearer of the Rampur Sahaswan Gharana and has been the recipient of various awards and accolades. He has also mentored many of the ace Bollywood singers like Lata Mangeshkar, Asha Bhosle, A.R. Rahman, Hariharan, Sonu Nigam, Shaan, his sons and grandsons.
Speaking about the thought behind this award, Ustadji's son Rabbani Mustafa Khan avers, "We are starting the award to honour his legend and make it enduring. He lives on through his music and there's no better way than to celebrate it annually by felicitating stalwarts from the field he had dedicated his entire life to! So, every year on the 17th of January, we will celebrate his barsi with a musical concert and an award."
"This year, Pandit Hariprasad Chaurasia ji is receiving the first award as he is one of the senior-most artistes who was also very close to my father – they have performed together all over the world. We feel we couldn't have had a better name to start the award with," he shares.
Awarded the Sangeet Natak Akademi as early as in 1984, Pandit Hariprasad Chaurasia's contribution to making Bansuri a mainstream wind instrument has never been in question. He is overwhelmed by the love shown by Ustadji's family and students through their decision. "I am grateful for his honour. Khan Sahab and his family have always been very special to me. He was an exemplary singer, performer and Guru. He is unparalleled in the number of talents he has mentored to reach greater heights of glory. Some of the most famous, popular singers of today's generation are his students. He must be so proud of them."
Veteran singer Padma Shri Hariharan, who is slated to perform at Haazri, considers him an artist par excellence, calls him the 'Badshaah' of Khayal singing. "When I heard Ustadji's album for the first time, I told my amma that I want to learn from this Guruji, and, "as luck would have it, he accepted me as his student. He was a maverick, who was not only a celebrated vocalist but one who even wrote all his bandish in multiple languages such as Hindi, Urdu, Sanskrit, Persian etc."
"Khan Saab was like a father to me; he taught me not just music but about life too. There needs to be a certain 'thehraav' in music for it to be soulful…Khan Saab taught me that this same 'thehraav' was the essence of life as well." Regarding the initiative to institute an award in his name, Hariharan remembers how he and Rabbani approached Hariji (Hariprasad Chaurasia) for the award, and how happy he was with the invite! "Panditji said, "Arrey, mera toh bhai hai woh!" I had goosebumps listening to the beautiful things about my Guru from Hariji."
As an exponent of Hindustani Classical Music, commenting about its current state Rabbani Mustafa Khan expresses, "It has been a strong pillar and shall always remain so. As its exponents, we will try to keep this form alive and that's the reason for the award, concert and the music academy in Ustadji's name where my brothers Murtuza Mustafa, Qadir Mustafa and Hasan Mustafa are teaching Hindustani Classical Music. We're soon starting a foundation in my father's name to keep the flag of Hindustani Classical Music, especially our Rampur Sahaswan Gharana, tradition alive. We also plan to promote its awareness through concerts all over India. We will promote young and new talents through the foundation and will be taking care of poor and needy artists."
About taking Ustadji's legacy forward, in the form of his grandson Faiz Mustafa performing on the occasion, Rabbani proudly enthuses, "We are so glad that my nephew, my eldest brother Murtuza Mustafa Khan's son – Faiz Mustafa will be helming the opening act at 'Haazri'. Faiz was the youngest musician on Coke Studio to perform with the legendary AR Rahman. In fact, our three generations – my father Ustad Ghulam Mustafa Khan, us four brothers, and Faiz, have performed together with AR Rahman and Sivamani. Faiz is surely going to take our legacy to newer heights."
From the next year, Rabbani says they have plans to add two more days to the celebrations and add more categories of awards to make it grander. "Soon, we will have four-five categories to recognise the outstanding work that people do in various fields," he signs off.
Since Haazri is a tribute to Ustadji, Hariharan will be singing ghazals and thumris, accompanied by the ace Tabla maestro Ustad Zakir Hussain. Faiz Mustafa Khan will also be singing Classical and thumris. The duo has done two albums together and the audiences can expect some of these songs. Hariharan will regale all present with ghazals such as Dayam Pada, Main Khayal Hoon, Mazee- E-Ishq, Shahar Dar Shahar, Bekhayali Mein, Koi Saaya, among many others, as proof of how his's Guruji legacy lives on!